Founded in 1872, the National Theater is the oldest Finnish-language theater. The building has six stages, more than a dozen premieres every year and over 30 different performances in its repertoire. In 2014, events at the National Theater drew over 177,000 visitors.
National Theater – revamped speaker system.
The National Theater's Alcons QR series speaker implementation was complemented by a new middle speaker solution. It was implemented using two (A and B middle speaker system) 7-speaker Alcons LR-7 line-array speaker groups. At the same time, the Alcons Sentinel amplifier equipment was complemented by two Sentinel model 3 4-channel DSP amplifiers, and a new AIControl monitoring/control software was adopted. In addition, signal distribution was implemented using a Dante networked solution. The new middle speaker system excellently covers the floor as well as the balconies, and the entire audience can clearly hear the dialogue/songs of the plays.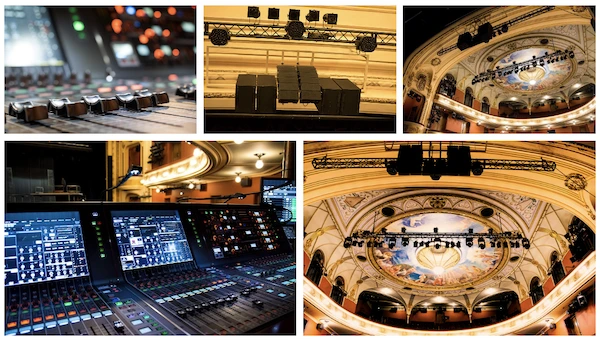 The National Theater's fully served Yamaha PM1D soundboard was replaced with Yamaha's latest flagship model PM-10 Rivage. The soundboard system consists of a control console, DSP unit and four interface units, of which three have fixed installations and one is in mobile use on stage. The interface units have been networked using a Yamaha Twinlane optical channel solution. The system also includes new Yamaha HY144 Dante adapters with a 144-channel capacity. They are used for transmitting the signal to the amplifiers, the Virtual Sound Check computer and the Q-lab effects computers that have been connected directly through a network interface using the Dante Virtual Sound Card software. The new implementation of the soundboard's sound processing and networking represents latest digital technology. Electro Waves did the holistic package of design, installation, configuration and adoption for the customer as a turnkey delivery.