Digital Signage. Timed advertisements, updating schedules, real-time communications. Efficiently relay information and affect purchase decisions with digital screen solutions. The content of the displays can be edited from your computer or via the internet.
We provide all Digital Signage solutions for shopping centres, airports, restaurants, stations as well as other public places and transportation – plugged in and ready.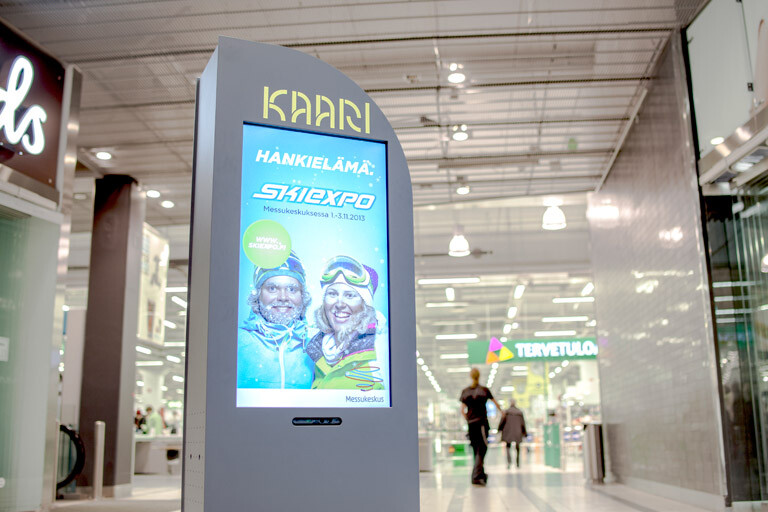 What is Digital Signage?
Digital Signage (DS) systems convey information and advertising while guiding the customer. DS is a large concept that includes a wide variety of hardware and software. The greatest challenge is finding the right combination of software and terminals for each location and every need.
Options range from big screens to touch screens. A Digital Signage system can also be connected to a customer's own terminal with, for example, a QR code. The latest applications use pattern recognition technology to gather information, such as age and gender, about the user. This combined with saving the user's searches enables targeted advertising in real time.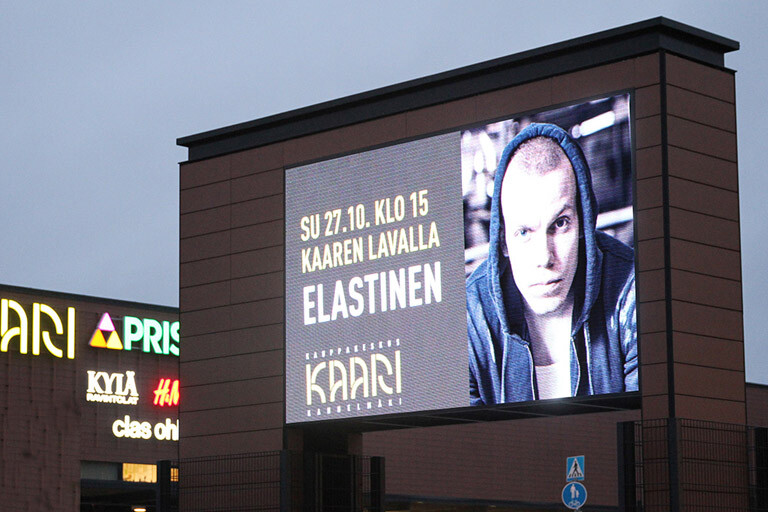 Outdoor LED displays
Shopping centre Kaari in Helsinki was a pioneer of the outdoor LED with their roadside display beside high way Kehä I. When designing an outdoor LED display it has to be ensured that the display has automatic brightness control and a high enough maximum brightness to account for all lighting conditions such as the morning sun. Installation is also worth noting, since assembly determines whether maintenance will be done on the front or the back of the display. Viewing distance will determine the Pixel Pitch value of the display.
Electro Waves also designs and supplies:
Information Systems
Info kiosks
E-menu
Interactive touch screens